Kanji is a Japanese language flashcard application for the iPhone and iPod touch that offers the graded slideshow method of study. It offers the ability to study with cards in random order and create custom lists of Japanese kanji to study from.
Many of the kanji cards provided by the application come with a selection of Japanese vocabulary compounds that can be studied alongside the Kanji characters themselves.
The application by Lima Sky is highly targeted to Kanji learners and performs its task quite well. It provides excellent cycle elimination, the ability to create custom lists of Kanji, and its inclusion of vocabulary adds to its usefulness. Though it lacks interval study feature and there are some areas for improvement mentioned below, this is an excellent offering for its price range.
Application Name: Kanji
iTunes Application Store Link: Kanji
Version Reviewed: 1.4
Software License: Commercial (about $3 or on sale for about $1)
Review Date: 2009.01.25
OS Tested: iPod Touch 2.2
Note: This review is primarily from the perspective of language learners. See the Terms page for an explanation of the technical terms used in these reviews. See the Basics page for a list of basic features found in flashcard applications useful to language learners.
This graded slideshow flashcard application comes pre-installed with Japanese kanji and vocabulary flashcards (from KANJIDIC and EDICT databases) and students of the Japanese language can immediately use it for their study.
While earlier versions only allowed study of four previously fixed sets based on levels of the JLPT test, you may now create custom sets of kanji that you want to study. Unfortunately, creating such sets can be time consuming given how hard it is to find kanji you may wish to study since you must scroll through a long list of kanji to find those you might want to add. There is no index by pronunciation or ability to search for character by inputting them oneself so the benefit of this feature is minimal. The developer has indicated that a more elegant and simple to use searchable index is in the works.
When studying the flashcards the kanji is displayed along with, in many cases, a few vocabulary items that use the kanji. According to the developer, an upcoming update will add supplementary vocabulary for all characters. Their kana pronunciation and English meanings are hidden at first viewing. When almost any area of the card is tapped, the kana and English for the card is displayed. You may then swipe to the next card, or tap a small check mark in the top right of the card.
The location of the small check mark in the upper right of the screen, where it is easy to reach, is excellent, since the developer did not, like many others, place it in the harder to reach nether region of bottom of the screen. However, the check mark to indicate that a card is known is way too small and a blundering thumb must aim well to hit it. The developer has indicated that this will be addressed with a larger area of sensitivity for the "known" button in an update due to come out soon. Also, there is no reason to continue displaying the card after a card has been marked correct, and the number of gestures in a long study session can be significantly reduced if marking a card correct moded it automatically to the next card. I also hope future versions will consider adding this.
Unlike some other offerings in the price range, this application offers excellent cycle elimination. When a series of cards are completed, statistics are displayed and the user is given the option to continue studying the cards that have not yet been mastered. This might even be made even faster and more efficient if, without pressing a button, an additional swipe past the statistics screen immediately proceeded to display the un-mastered cards (since it usually takes many rounds to get through a set of cards and dwindle them down to nothing).
There is no interval study offered for this application, so serious students of Kanji may wish to consider the powerful Kanji Flip application but given the very reasonable price, this hard-to-program additional feature is an unreasonable expectation. However, I am in fact optimistic that Lima Sky is considering such a move in future development. There are also no export/import or synch options to combine with desktop study but that is also beyond what one can expect for an application of this price.
If the check mark is significantly increased in size, lookup of characters for the creation of custom kanji sets made more simple, this would be a leading offering for its price class.
Some images below:
Adding kanji to a custom list: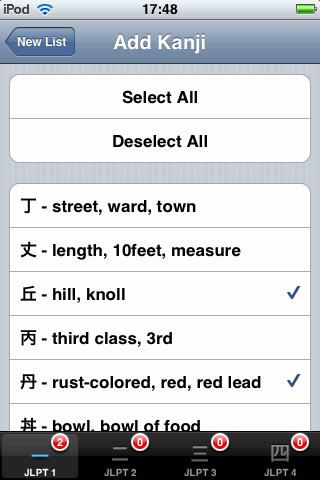 Card view: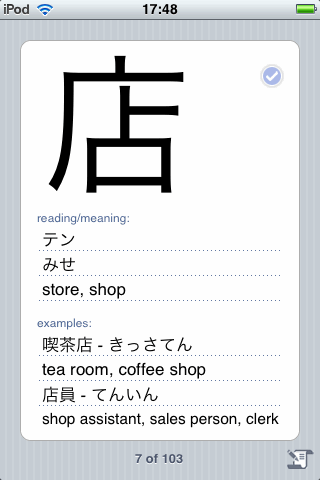 Completion of a study round: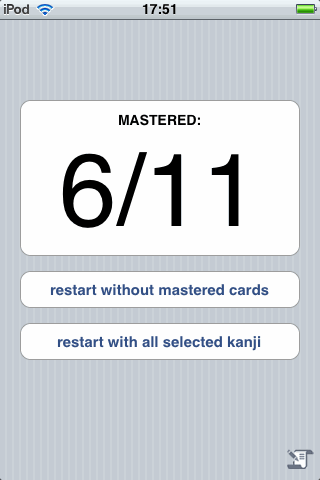 Home view: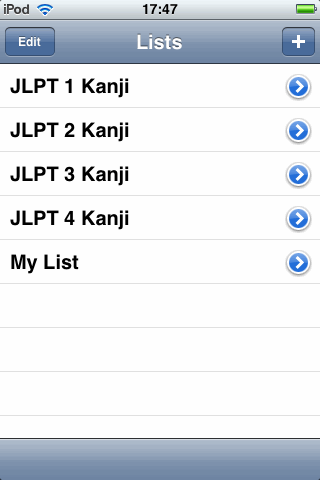 Import: None.
Export: None.
Non-Roman Scripts: No problem
Modes of Study: Graded Slideshow
Media and Frills: None.
Entry Creation: None
Entry Editing: None
Set Organization: Can create, modify and delete sets. However, difficult to find kanji characters one might want to add.
Flashcard Study: Good, but needs a larger check mark to indicate known cards.
Interval Study: None
Formatting: No customization possible
Design and Feel: Good, simple, clean, and fast.
Statistics: Decent, shows the statistics upon the completion of a round but not during study.
Golden Coxcombs: 8/10 Excellent for its price range.